Scientific Program
19-october-2019
---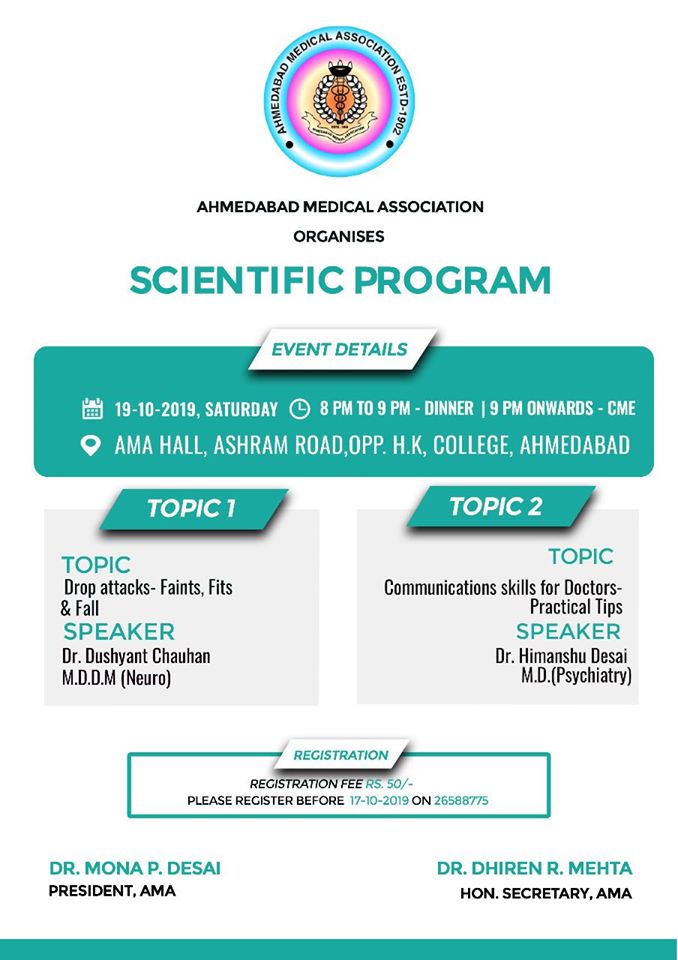 Ahmedabad Medical Association's new Scientific committee for the year -2019-20 organised it's first scientific program on 19th october'19 at 9:00pm at AMA hall.Two Scientific delibrations were kept. The first Speaker was Dr.Dushyant Chauhan D.M.(neuro)- a very eminent neuro physician of ahd city.His topic was 'DROP - OUTS,FITS,FAINTS AND FALLS'. A very vast topic but very ably concised in short without leaving any important facts and also making it very simple to understand -that is the virtue of an excellent orator and it was a treat to listen to him.
The second delibration was given by a well known psychiatrist - Dr. himanshu Desai M.D.(PSTCHIATRY) - ON TH TOPIC 'COMMUNICATION OF DOCTOR AND PATIENT - A PRACTICAL APPROCH'.It was most intrestiong as he showed every aspect of communication with a 'ROLE-PLAY'. The role-play was encted so wonderfully and convincingly by Dr. Himanshu Desai himself ,Dr. Suhag Doshi(M.D. Psychiatry) and our HonSec.Dr.Dhiren Mehta.
It was excellent, informative , most interesting and also humourous scientific program enjoyed by approx.100 Doctor members.