Scientific Program
17-November-2019
---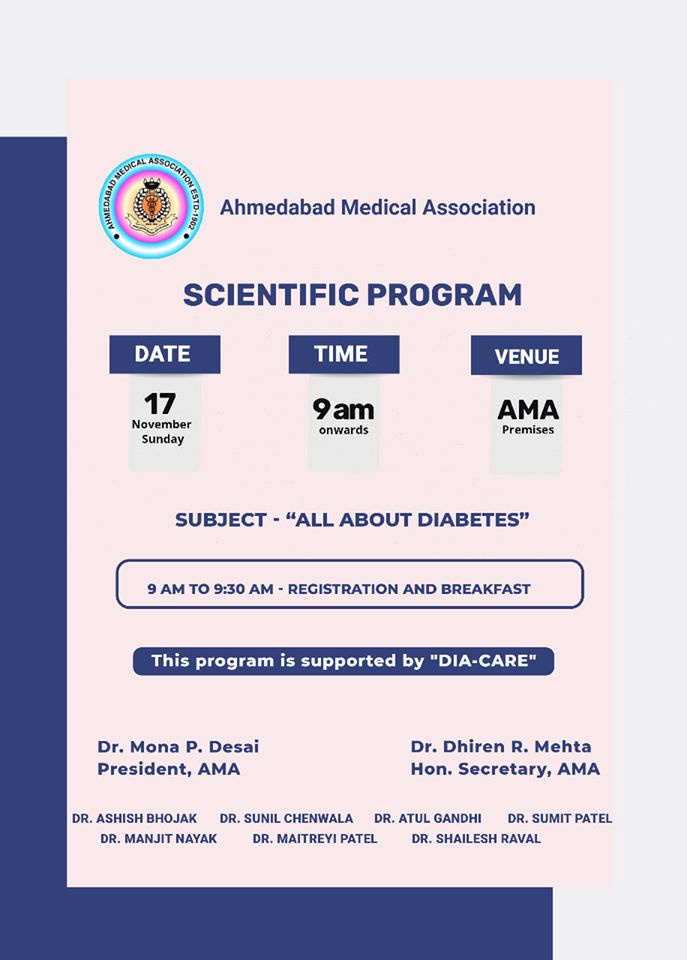 Ahmedabad Medical Association organised an informative programme on 'Diabetes'. We doctors have noticed that in our practice we are now getting more and more young patients of Type-II Diabetes- this is because of the Fast life style , Fast food and Excessive Stress. Also treatment -resistant patients are increasing.So to update our knowledge regarding cure and prevention of Diabetes an excellent informative CME was organised on 17/11/19 - Sunday from 9:00am to 1:00pm in association with Dia-care Associates.
The speakers were:-
1) Dr.Padmanabh Zinzuwadia
2) Dr.Navneet Shah
3) Dr.Sanjeev Phatak
4) Dr.Pratap Jethwani
5) Dr.Dharmendra Panchal
6) Dr.Rutul Goklani
Their TAKE HOME MESSAGE WAS :-
ALL ABOUT DIABETES
1. Dr Padmanabh Zinzuwdia highlighted increasing burden of diabetes in society and we Indian develop diabetes at early age at lesser BMI and also develop complications earlier which progresses faster.
2. Dr Navneet shah enlighten the typical challenges which we have in management of diabetes managements in terms of lack of awareness, fear of as well as negligence of diabetes treatment, clinical inertia to start and escalate diabetes management, failure to screen for the complications and lack of system of continue care. He also addressed the possible solution which we may have at public and policy maker level including consideration of healthy lifestyle in schools, universities and private and government sectors. Consideration of nutritional therapy in insurance. Incentives for diabetes people for maintaining good glycemic control in insurance.
Need for universal diabetes prevention program and must diabetes management training of Health Care Professionals. 3. Dr Sanjeev phatak addressed the issue of clinicalinertia that is failure to escalate therapy when needed. inertia that is failure to escalate therapy when needed.The problem is that severe diabetic patient spends approximately 6 years in hyperglycemia before the therapy is escalated. He also introduced the clinically very useful and simple tool to monitor the health of the people with diabetes, BLUE INDEX : DIABETES HEALTH SCORE which encompass 10 important parameters and BLUE INDEX score < 35 is poor diabetes health and > 45 is good diabetes health
4. Dr Rutul Goklani highlightened the various controversies in diabetes including controversies in diagnosis and cut off for weight, body mass index, target for the management in terms of HbA1c and other, controversies raised in various guideline to choose the therapy, which and when, mono or combinations,insulin or noninsulin.He also explained simple clinical criteria to take clinical decision for the diabetes management.
5. Dr Pratap Jethwani took us in tour of various current and future technologies useful in management of diabetes, including noninvasive glucose monitoring, smart glucose meter of cornea lens and ear lobe as well as sweat glucose monitoring ,continuous glucose
monitoring AGP to mobile monitoring, various devices to deliver insulin from smart pen to I port toinsulin pump and newer noninsulin treatment options. 6. Dr Dharmendra Panchal took us through the clinical journey in diabetes management from uncontrol to control and from reversal of diabetes to remission of diabetes. Hope for the cure and how clinically we should go for the reversal. The program ended with delicious lunch. All in all a very successful CME.